If you like to find reasons to celebrate something or to get together with your family or friends, then don't discount National Pecan Day!
The Oklahoma Debate on How to Pronounce Pecan
There is a long-standing debate in Oklahoma about how to pronounce the word "pecan." And since I'm living in Oklahoma I guess I should care, right?
Some people pronounce it with a short "a" sound, like "pi-kaan," while others pronounce it with a long "a" sound, like "puh-kaun." There is no right or wrong answer, you can say it however you want haha!
So, if you like to find reasons to celebrate something or to get together with your family or friends, then don't discount National Pecan Day!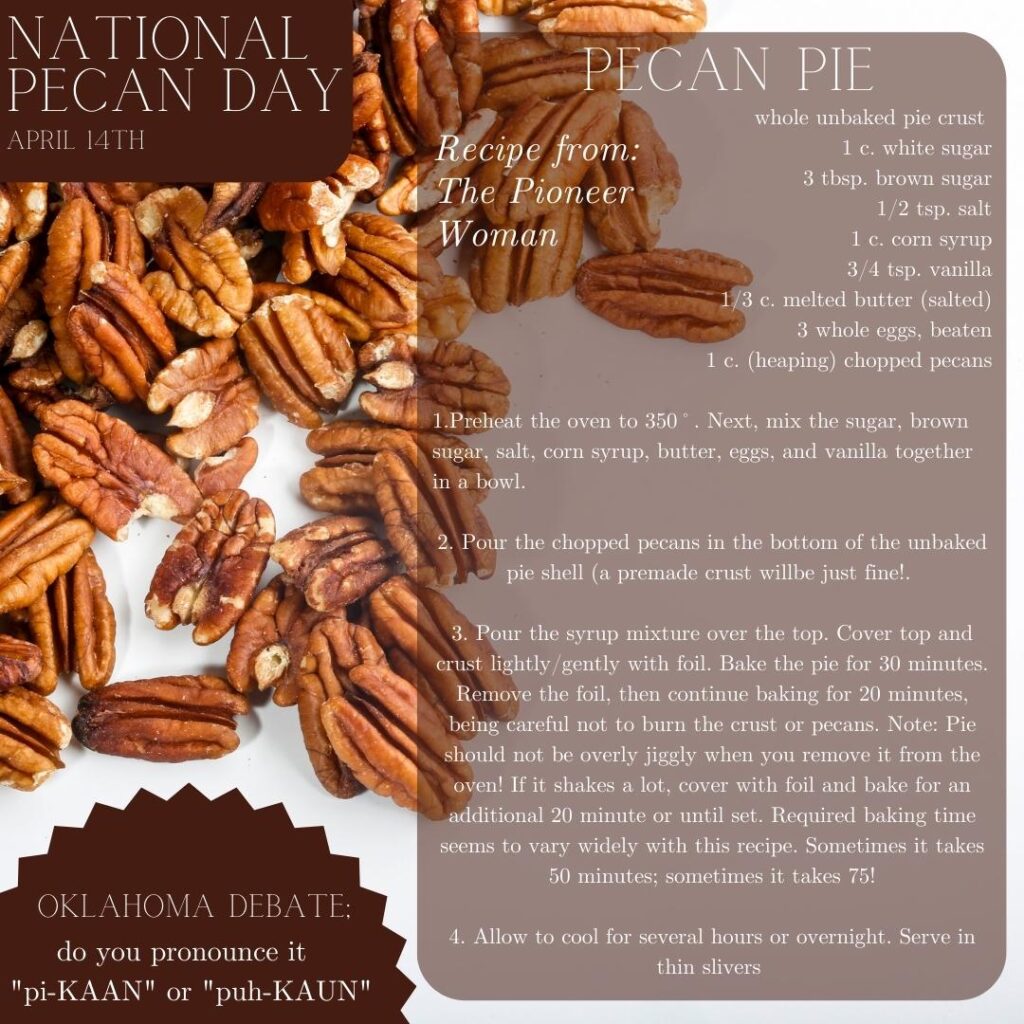 Celebrate by Eating Pie with Your Family
One of the best ways to celebrate National Pecan Day is to eat pecan pie with your family. Inviting everyone over for dessert after evening church would be a great time to eat pie. How about having pecan pie included in a brunch menu! There are many different recipes for pecan pie, so you can find one that everyone will enjoy. You can also make your own pie crust or buy one from the store. And if you don't want to attempt to make a pie, buying one counts too! Just find a reason to get together and celebrate with your family!
Make a Memory by Sharing Old Family Recipes
Another great way to celebrate National Pecan Day is to share old family recipes with your family or friends. This is a great way to connect with your family's history and learn about their traditions.
Have your grandmothers write out thier famous pecan pie on a recipe card for a keepsake! They might even have a homemade recipe for whipped cream to top it off!
It's hard sometimes for younger generations to feel connected to the older generations, so having the older teach the younger ones how to make a pie would be priceless! The little ones would have a neat memory that they could share for a long time!
Maybe finding old cookbooks that have been passed down from generation to generation and reading the ingredients to see if anything has changed over the years would be entertaining!
If there are no previous recipes you have to look at then you can start a new recipe that you can pass down to the next generation! How fun knowing that you are contributing to many years of pecan pie making memories!
Get Together with Your Family and Have a Pie Tasting Contest
If you have a large family, you could have a pie tasting contest.
Large families are so much fun! I have 4 kids of my own and I love it when we are all together in the kitchen working on dinner together or them just in there talking while I'm getting everything gathered up for a meal! Everyone is laughing, telling stories and reminiscing about old times.
If your family is really large, renting a cabin and making a weekend of it would be so fun! Invite everyone to come, give instructions before the big weekend how they can prepare for the pie tasting contest!
Everyone can be responsible for bringing thier own pie when they come or everyone could just bring their own recipe and all the ingredients and everyone work on their own pies together! Can't you just hear all the laughs and see the mess!!
After everyone has made thier pie line them up and everyone gets a taste! Have some funny prizes for the most messy pie, a prize for the runniest, a prize for the prettiest, and a prize for the pie that the pecan's stayed at the top of the pie. Just make them silly titles and prizes!
If your at the cabin a nice batch of homemade ice-cream would go great with the pie!
Enjoy Your Time Together as a Family
These are all just fun ideas and do you really know anyone that celebrates National Pecan Day? I don't but if it will create a reason all of my kids and family can get together and make some memories, I'll celebrate!
No matter how you choose to celebrate National Pecan Day, the most important thing is to spend time with your family and enjoy each other's company.