Favorite Chicken Salad Recipe
I posted a picture the other day on Instagram of myself eating a bite of chicken salad that I had put on a piece of celery.
I had started the post with, "Please tell me that I'm not the only one!" and then Instagram cut the rest of the caption off.
My friend Kerri commented and said, "I thought you were going to ask if you were the only one that liked celery and I was going to say YES!" I thought that was so funny!! Obviously she doesn't like celery! haha.
I just like something crispy with my chicken salad. Don't you?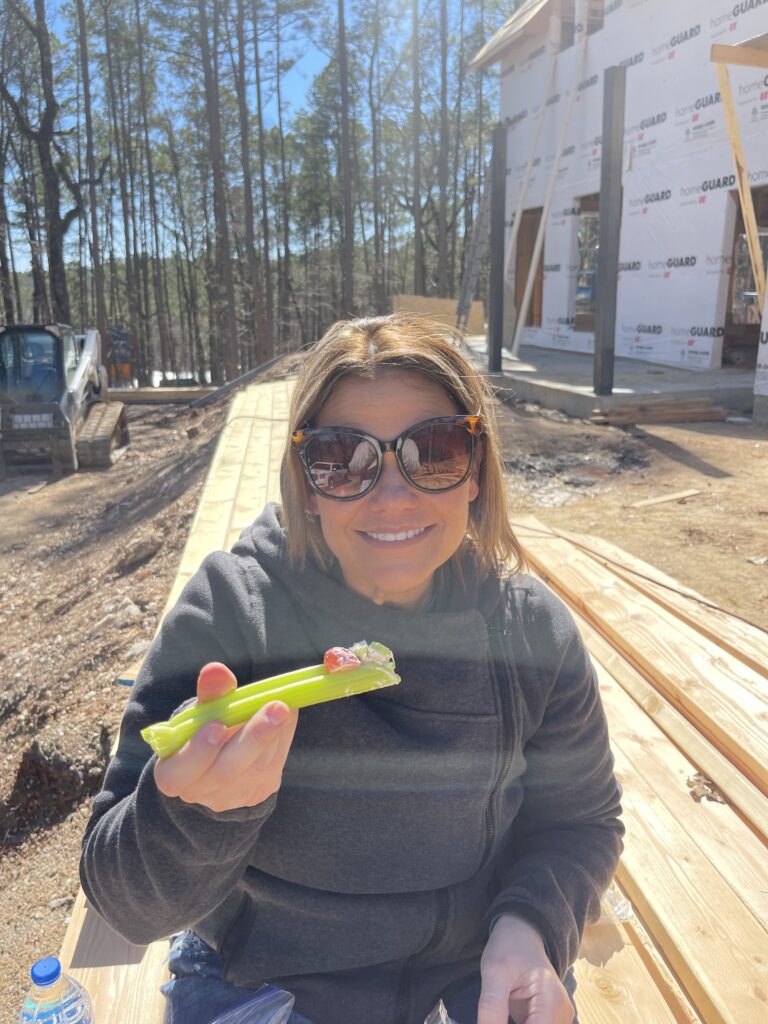 In that picture, I was sitting on a pile of timbers that hadn't made it's way yet into the cabin. It was a beautiful day! The temperature was cool enough to have to wear a jacket but it felt so good just sitting out in the sun!
I had brought this chicken salad from home, I had packed a cooler full of snacks and drinks for everyone to enjoy while we were working on the cabin!
Chicken salad is a classic dish that's easy to make and perfect for any occasion, like taking it to the cabin to work! With the right ingredients, you can create a delicious and satisfying meal that's both healthy and flavorful.
I'll show you how to make a delicious chicken salad using chicken, grapes, celery, pecans, mayo, salt, and pepper.
Ingredients:
1 rotisserie chicken, shredded
1 cup seedless grapes, halved
1 cup celery, chopped
1/2 cup pecans, chopped
1/2 cup mayo
Salt and pepper, to taste
Instructions: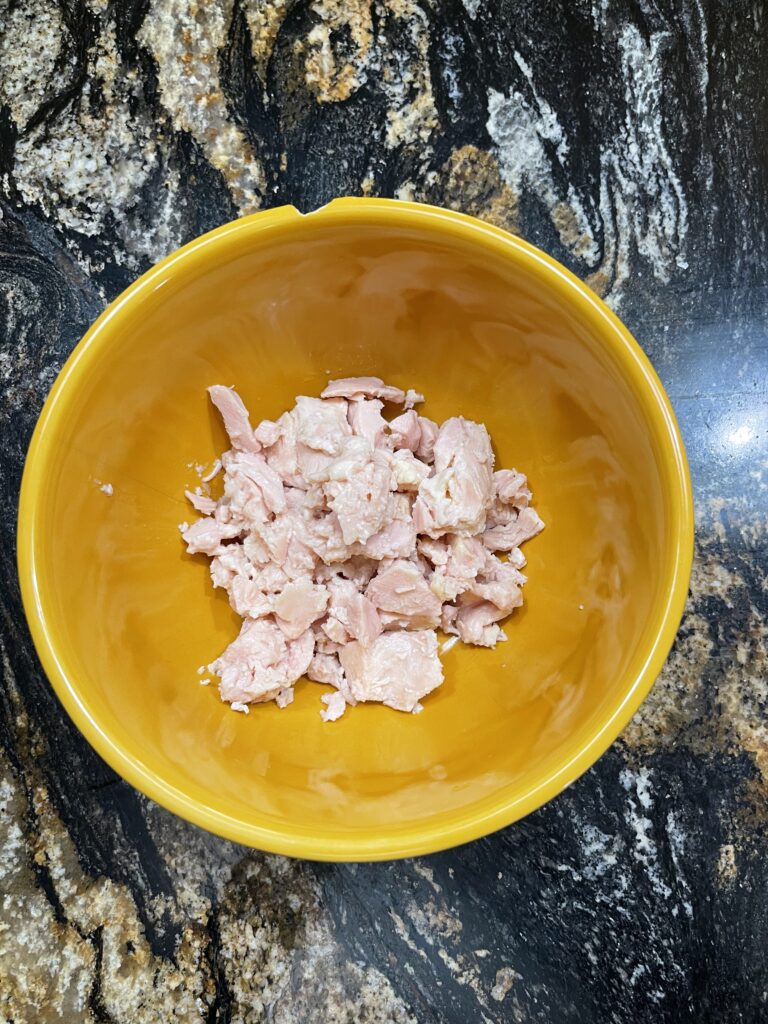 Start by shredding the chicken, I prefer to use rotisserie chicken (remove the skin and bones, and shred the meat into small pieces) but if I don't have time to stop at the store, I will use canned. You can use a fork to do this.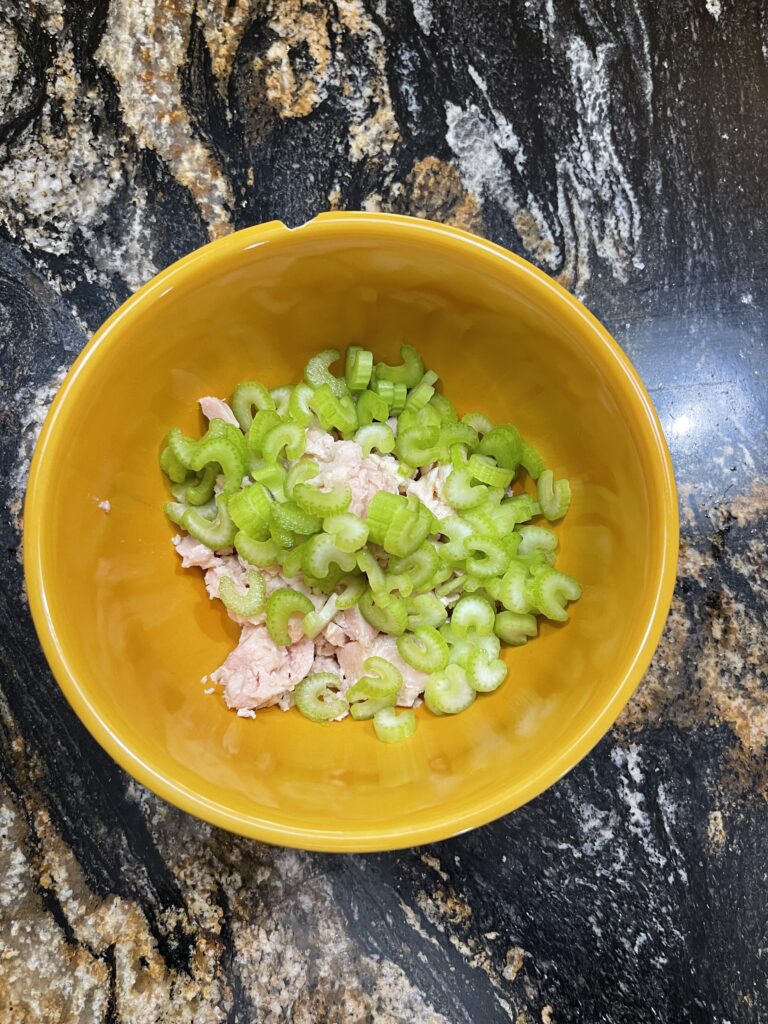 Halve the grapes and chop the celery and pecans into small pieces.
In a large bowl, mix the shredded chicken, grapes, celery, and pecans.
But how should you eat it? Here are a few ideas:
On a sandwich: Toast some bread and spread a generous amount of chicken salad on top. Add lettuce, tomato, or any other toppings you like for a tasty and filling sandwich.
In a wrap: Take a large tortilla or wrap and spread the chicken salad on top. Add some spinach or other greens, roll it up, and enjoy!
As a dip: Chicken salad makes a great dip for crackers, veggies, or even pita chips. Put it in a bowl and serve it as a party appetizer. Or on a piece of celery!
On a salad: Top your favorite salad with a scoop of chicken salad for a protein-packed meal. Add some extra veggies, nuts, or fruit for even more flavor and nutrition.
Straight out of the bowl: Sometimes, the best way to eat chicken salad is just to grab a spoon and dig in! It's a great snack or light meal when you need something quick and satisfying.
Add the mayo to the bowl and mix until everything is coated.
Season with salt and pepper to taste.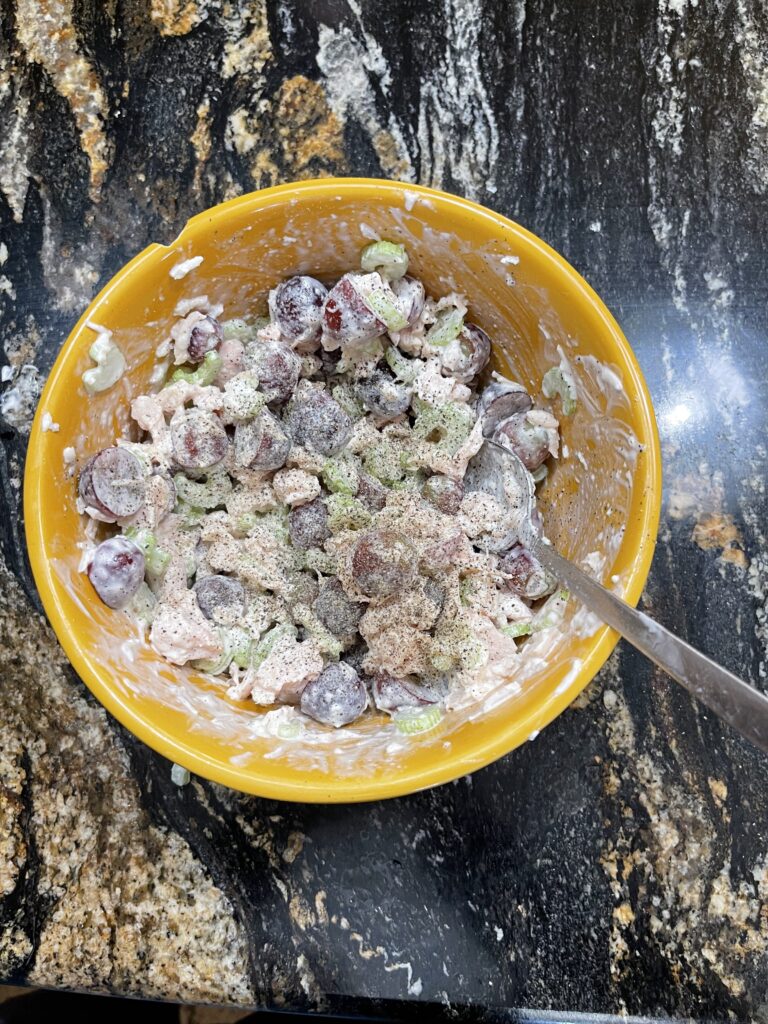 That's it! Your delicious chicken salad is ready to eat.
With these ideas, you can enjoy your chicken salad in a variety of ways. Whether you're looking for a quick lunch, a party snack, or a healthy dinner. At home, on the go or working on your cabin! This versatile dish has got you covered. So grab your ingredients and get cooking!
What is your favorite chicken salad recipe?