House Boat on Broken Bow Lake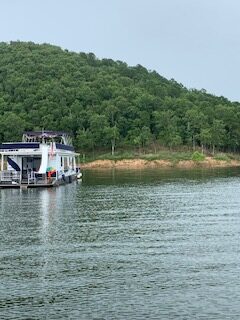 Broken Bow Lake is probably one of the prettiest lakes in Oklahoma. It is a reservoir in southeastern Oklahoma, located on Mountain Fork River. It is one of the largest fresh water lakes within the state of Oklahoma.
The lake stretches 22 miles back into the Ouachita Mountain country where its unusual beauty and scenic appeal makes it hard to believe you are even in Oklahoma! The mountains that surround the lake and this region on the state is densely forested with pine trees that reach to the sky! The sky even seems bluer when you get to Broken Bow Lake
So when you combine "located on Mountain Fork River, one of the largest fresh water lakes, and it backs into the Quachita Mountains", it screams, come see me!
My family and I love boating on Broken Bow Lake. Pulling the kids behind the boat with the tube, water skiing and just stopping to swim is one of our favorite summer time activities! So many of our kids memories involve fun we have had at the lake!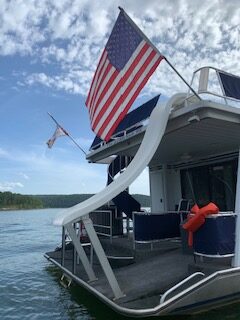 One summer we decided, we would rent a houseboat on Broken Bow Lake. We took an extra day off work and made it a long weekend, and it's so much fun!
After we loaded all our supplies onto the boat that was docked, we took off across the lake. However, I think if we would of decided to stay on the boat dock in the house boat we would of had just as much fun too! The dock was filled with families sitting out on their decks, talking, playing music, cooking out and just enjoying being outside! It was a fun atmosphere! When we go again, that's where I would like to try and stay, docked!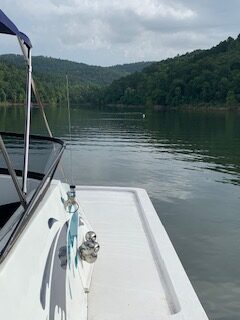 It was a slow pace going across the lake. We just sat back and enjoyed the view as we found our way to a cove. The cove was protected on both sides from the wind. It made us feel like we were the only ones on the lake. We could see other boats passing by out on the big part of the lake, but it was so peaceful and quite!
The lake has lots of pine trees around it and the water is always clear. There are also tons of fish in the lake, so if you like fishing then this is perfect for you. It's great because there's enough space between each boat that they aren't bumping into one another all the time.
We took our houseboat out on Broken Bow Lake.
As we came into the cove there was an anchor that you can hook to. So we anchored and began our beautiful weekend, with not a cloud in the sky and pine trees surrounding our entire view while sitting on the lake!
The lake is maintained by the Corp of Engineers and they do not allow anyone to build houses directly on the lake. So it feels very secluded when you are out on the water. We had all the kids with us and we just wanted to spend some time together.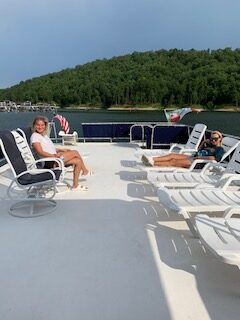 Putting the houseboat on Broken Bow Lake was so pretty and relaxing. The lake is a great place to spend the day with friends, or just with your family. You can go swimming or fishing, or just sit on the cliffs along the shoreline and watch all of the boats go by! When we were sitting out on the deck a bald eagle flew by. It flew across the lake to it's nest. It was a beautiful site, but the neat thing is, it's not that uncommon to see bald eagles there!
If you love being outside as much as we do, then taking your houseboat out on Broken Bow Lake is definitely worth a visit!
Our favorite thing to do is have friends over and hang out by in the water.
Since you can't live right on the water at Broken Bow Lake then this is the next best thing. Being on the water! Here are a few ideas you could do when you bring your houseboat to Broken Bow Lake!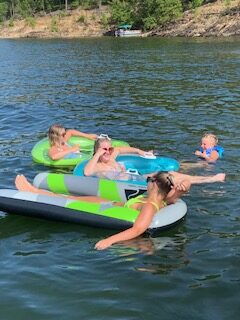 Have a birthday party on the houseboat! It would be a favorite memory for your friends to celebrate one of their birthday's on the the houseboat! Bring a cake, sit out on the deck, and make some homemade ice cream! That would be a Birthday Bash on the Boat! Love it!
Have a cookout! Firing up the grill, putting on your favorite cut of steak and fixing a big glass of iced tea, I don't think it would get any better than that!
Float away the day! Taking air up floats, one of those floating mats everyone could lay on or one of those huge round floaties with the cooler in the middle would be so fun! Tie them all up to the boat and literally float all day long in the nice cool clear water!
Get Jet Ski's or a speed boat! Pull the kids behind the boat, explore the shore up close on the Jet Ski's or just find another cover to fish quietly in. Having another boat or Jet Ski's to use while your anchored to the house boat makes for some fun in the sun!
Come Experience Broken Bow Lake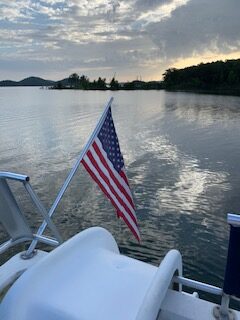 I hope you've enjoyed learning about our experience on a houseboat on Broken Bow Lake. We love living in the area and boating with friends and family, so we thought it would be fun to share our story with you! If you have any questions about boating or other fun things to do around Broken Bow or Hochatown, please don't hesitate to reach out.
Clarie